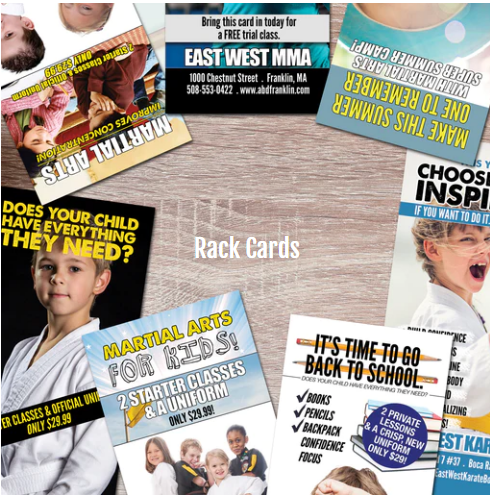 Rack Cards are by far our most popular product for year-round marketing.  
They have many uses but the best one is definitely placing them in local businesses around town! Doing this is actually really simple.  I used to go out there and do this for a local school and here is how it's done:
1.  Split up your rack cards into stacks of 50, rubber band them to make this easy.  If you are going to a really high traffic business you can leave more than one stack, but 50 is a good number for most places.
2.  You should also have a special stash of VIP Cards with you.. these are for the business owners and staff at each location you visit.
3. If you're doing this by yourself you can skip this step, but I used to go out with another person.  So we would decided what plazas/areas we were each going to do so we didn't overlap and had about the same number of locations to hit.
4. Get started!  Once you arrive at a location you simply walk in, introduce yourself and tell them a little about your school (ask to speak to a manager if necessary).  You ask them if you can leave a stack of your rack cards there for their customers to grab.  As a thank you, offer some of your special VIP Cards for them and their staff to come in for an extra special offer.  If they have cards, offer to take some back to your school to reciprocate!
5. Most people will say yes.  Some will say no.  Some will be closed or maybe you'll be asked to come back when a decision maker is in charge.  No matter what happens, TAKE NOTES.  Have a list and write down the date, the business and what happened.  If they said yes and you were able to leave your rack cards there, you'll need to revisit that location in a couple weeks to replenish the supply.  If you go back and it's still full, you can flip them over so the opposite side is facing up or have a different rack card handy to switch it out for and try something new.  If no one was there or you were asked to come back, you'll need to have notes of when to do that so you make sure to come back.
6.  Keep doing this for a set time limit or until you run out of rack cards!  A box of 5,000 is good for 100 businesses assuming you leave 50.  You may end up leaving more than that!  Me and the girl that I did this with used to go out for about an hour and sometimes we could get out an ENTIRE box of 5,000 cards in that time!!  A lot of plazas have 25 stores in them.  If you have two people going to a couple of those and can assume most people will say yes, you can see how fast and easy this is!
This is actually a lot of fun too and an AMAZING way to create relationships in your community!  You should know every business owner near you and they should know you!
What kind of places should you visit?  Anywhere really.  Pizza places, dentists, daycares, nail salons, pet stores, play places, coffee shops.. literally anywhere.  You never know where your next potential students may be!
Rack cards are also just great to have for all your promo booths, school talks, placing in a rack outside your school when you're closed, and more!
This is something every single one of you should be doing! No excuses!