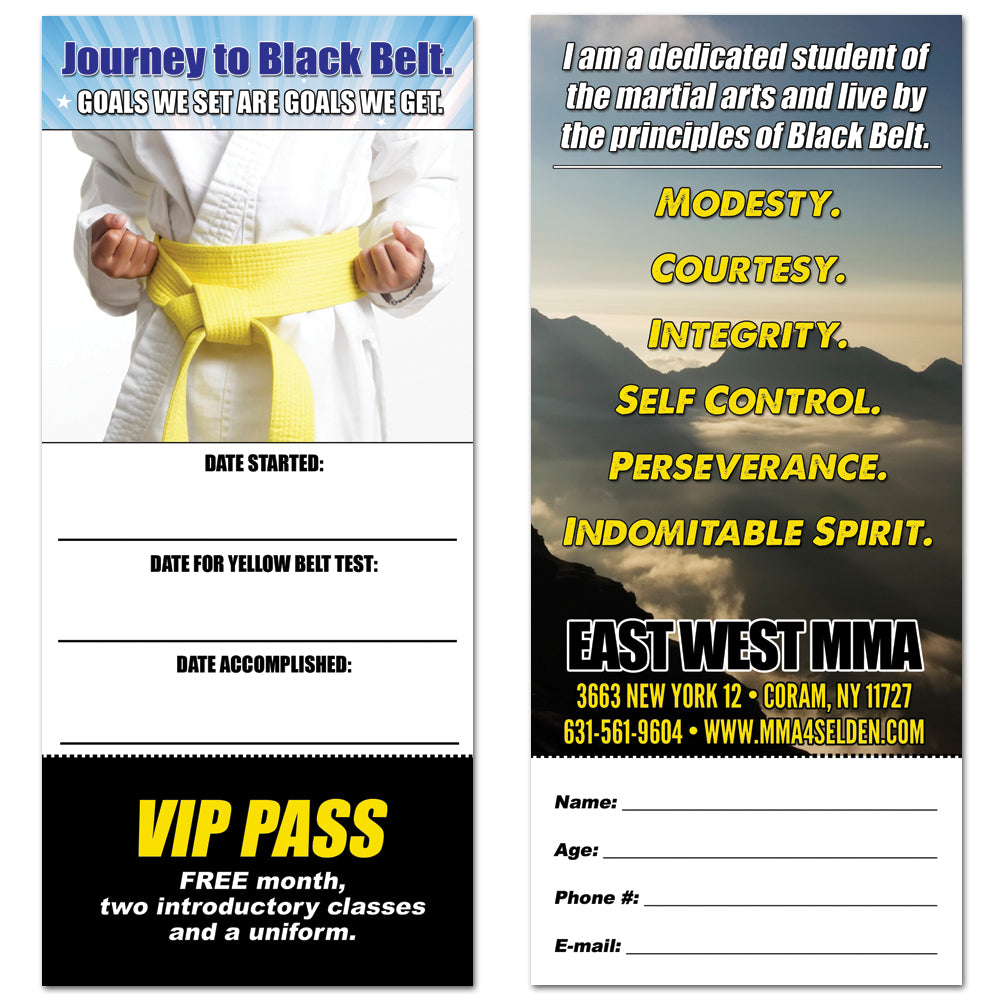 4x9 Progress & Goal System Rack Cards customizable with your schools information and unique offer.
Perforated section on the bottom for easy lead contacts! 

Printed on 14 pt card stock.  Non-UV coating for easy writing.

These cards are a must for your retention system and upgrades made easy program.

Hand out these cards during your

 

PROGRESS & GOAL

 chats.
 
The Progress and Goal system is the cutting edge replacement for 2 – 4 – 6 week calls. You accomplish many things. First the initial PG talk helps parents on what to look for in their new martial arts student. It prevents them from comparing their child with other children and teaches them to become "good finders" which leads the faster increases in confidence and self esteem. The tear off SHARE PASS is a way for the new student to shares his excitement with others. These card are meant to be handed to the student after the mini chart after two weeks.
 
On week four we are getting to know the student and parents a little more. We discover where they work, what goals they have and tell them about possible hurdles the student may face in their training. We then agree to TEAM UP so the students NEVER GIVES up. This reassures the new student of our commitment and prepares him for their experience in the school and setting goals. The simple tear off coupon is good for a Pro Shop purchase.
 
Our last PG chat is around week six. It's usually after their first stripe test and it's where you share the Black Belt vision and long term goals. The coupon is so the student can invite a friend in for a VIP membership and the chat leads to a Progress Check and upgrade evaluation.