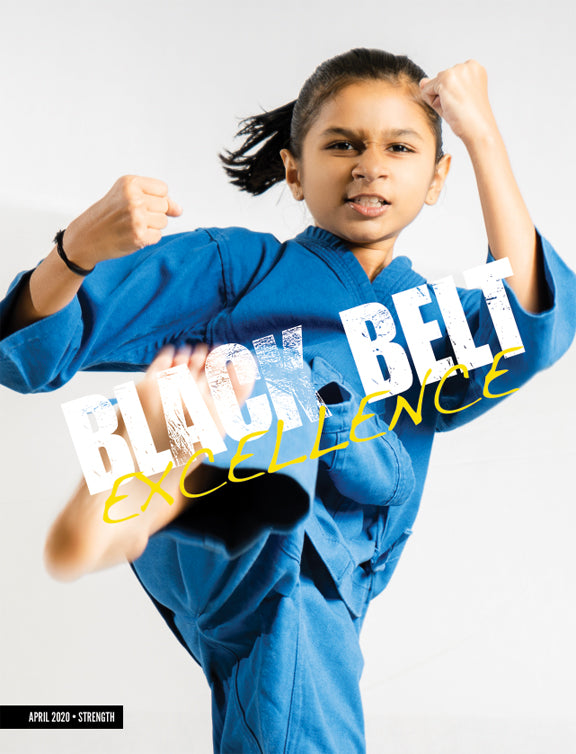 This month has really tested us on our March lesson about optimism and having a positive attitude. I love seeing the creative ways all of you are adjusting to this unpredictable time such as virtual training and online classes. It just so happens that our lesson for April is strength - you will be teaching your students not only about physical strength but mental strength as well. What a perfect lesson for right now. As a leader, you have an opportunity to really inspire and educate your students and the community.
These character development lessons are extra important right now as kids lives have been completely turned upside down. Imagine the little girl who is missing out on the daddy daughter dance because school was closed. Or the dance recital she practiced for all year. Or the 5th grader who misses out on his elementary school moving up ceremony. Or the high school seniors missing prom and graduation. And all the other little things that kids have looked forward to and worked hard for for so long. Keep encouraging them. Keep spreading positive messages. Give them some sense of normalcy as everything around them has suddenly changed.
To use our program with your online programs that students will be doing at home, here is what you need to do:
1 - Send out the newsletter pdf to all your students and post it in your student Facebook groups to make sure everyone gets it
2 - They can print the newsletter themselves at home and have their student complete it as normal
3 - When their student is done, they can scan it or take a picture and send it back to you
4 - You can award them via email with the certificate in the member's section
5 - You will keep using the weekly videos and the mat chat pdfs as usual - you will just integrate those lessons into your virtual classes.
6 - Send them the coloring sheet as well for them to print at home as another activity they can do for fun on their own